The Subaru Love Promise Community Commitment
We believe giving back builds stronger communities and it all starts right here at home. With our Love Promise Community Commitment, we partner with a wide variety of community nonprofits and charities in the Klamath Basin. Every year, we join hands with our owners in the "Share the Love" event, giving back to our community, a community that's given so much to us.
Every day, we strive to ensure our love is felt not just by our customers, but by all in our community. We do this because we feel it is the right thing to do. We are proud to participate in the Love Promise Community Commitment. We're grateful, not only to be a part of our community, but to serve and support the causes and passions that are closest to our hearts, right here in our neighborhood. All of the organizations we support have one thing in common: the unwavering dedication to improve the world and the lives of ­individuals within the Klamath Basin community.
Fill a Subaru
Our annual "FILL-A-SUBARU" initiatives help us collect supplies for various organizations throughout the Klamath Basin. Supplies for the Food Bank, Animal Shelter, and local schools can be dropped off at the Klamath Falls Subaru  Showroom and Service Department.Our goal is to Fill an entire Subaru with supplies that will be donated within the community. Thank you for helping us support some of the wonderful organizations in the Basin!
Subaru Loves Learning
In an effort to make a positive impact on education in our local community, Klamath Falls Subaru is proud to support The American Association for the Advancement of Science (AAAS) for the #SubaruLovesLearning initiative. Come by our showroom anytime during the month of August and personalize a label for an award-winning science book we will be donating to local school children, and send a message of encouragement with a personalized bookmark! You may also take home a Subaru and AAAS After-school Science Hands-On Science Activity Booklet and a recycled Subaru Loves Learning pen! Help us support and encourage children in the Basin!
Fill A Subaru or 2 for the Klamath Animal Shelter
Klamath Falls Subaru partnered with Mrs. Bird's 3rd Grade Class from Conger Elementary School for their 2016 community service project. The students wanted to Fill a Subaru (or 2) with cat food, dog food and kitty litter for the Klamath Animal Shelter. We held a Battle of the Furry Friends and see if CATS or DOGS could receive the most donations. Klamath Falls Subaru dedicated the use of 2 Subaru Foresters parked in their service bay for the entire month of May. One vehicle was dedicated to CATS and one to DOGS.
The students decorated the vehicles with posters and artwork. Klamath Falls Subaru supported our cause by voting for a poster contest winner to be used on social media. They had posters available to customers, shared about our event on local radio and many employees spend their own money to donate in support their favorite furry pet.
At the end of May, we had collected 1018 lbs. of donations for the CATS and 1524 lbs. for the DOGS. We were able to present the Klamath Animal Shelter with a total of 2542 lbs. of donations. This was a wonderful learning opportunity for my students that they will remember always. As a little side note, we held similar Fill a Subaru events in 2014 and 2015 with the previous owner. Klamath Falls Subaru came in with full support for our event. All of the new management and employees were excited to be involved. In the end, this was our most successful Fill a Subaru Event to date and exceeded our previous years donations by over 200 lbs.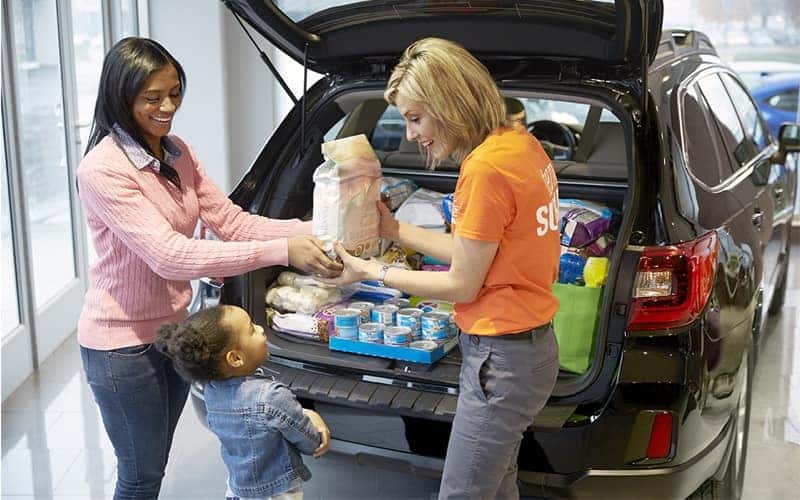 Klamath Falls Subaru & Friends of the Children
Klamath Falls Subaru's commitment to the Friends of the Children – Klamath Basin program is unparalleled in our rural Oregon community. The friendly staff is always warm and welcoming to our staff and program youth when we participate in activities on site. Many take a few minutes of their time to visit with us and express their appreciation and kind regards. Klamath Falls Subaru's financial commitments to our 12 year professional mentoring program are a tremendous asset and support to our program as we serve the youth in our community who are facing the greatest challenges. Because of our intensive long term commitment to these youth that truly need us the most, ongoing support is critical to our mission and ability to add new youth and fully serve those we have currently enrolled. Recently Klamath Falls Subaru provided sponsorship and support for our annual signature Friend Raiser event. This beloved community event draws over 500 attendees and allows them an opportunity to learn more about our program and meet some of our amazing youth each year. Subaru's support and involvement in this highly successful event is greatly appreciated and critical to it's success. They are a stellar example of the capacity of the business sector to become involved in an organization such as Friends and develop a meaningful relationship that provides a positive experience for both partners. Thank you!!
Friends of the Children Receives $10,000 Donation
On 4 p.m. on May 3, 2016 in the Klamath Falls Subaru showroom, Subaru will donate $10,000 to Friends of the Children, helping them continue the fantastic work that they've been conducting.The Klamath Basin chapter of Friends of the Children has been providing invaluable assistance for at-risk youths for over 16 years. They target children who are born into poverty, finding themselves at greater risk of dropping out of school, developing substance-abuse issues, becoming incarcerated, or becoming parents as teenagers. To prevent those things from happening, a salaried, professional mentor – or "Friend" – is provided from kindergarten through graduation.This is just the type of program that is regularly supported by Subaru's Share the Love Foundation. Their program is only in its eighth year, but it has already donated over $65 million to charitable causes across the United States. The program is also dedicated to offering much-needed donations and support to local charities, and the team over at Klamath Falls Subaru feel that the Friends of the Children program is a deserving choice. Thank you to Klamath Falls Subaru and Subaru of America for the $10,000 donation! It will go a long way towards helping us succeed in our mission!
Subaru Loves to Care
In an effort to make a positive impact on the health and wellness of our local community, KLAMATH FALLS SUBARU is supporting the Leukemia & Lymphoma Society by collecting messages of hope for local patients, as well as blankets for adults and arts & crafts kits for children undergoing treatment. This was part of a larger Subaru of America, Inc. (SOA) initiative during June called Subaru Loves to Care.
The Subaru Loves to Care initiative reflects Subaru of America's corporate goals to improve the health and wellness of those in the local communities where we live and work. Both SOA and local retailers across the country have shown their commitment to community wellbeing in a variety of ways – all part of the larger Subaru Love Promise community commitment effort, which is dedicated to making a positive impact on the world.
Butterflies Habitats
For many years first grade classes at Conger Elementary School have kicked off each school year studying insects, specifically butterflies. Many years ago, classes could hatch Monarch Butterfly chrysalises as part of a Science Unit. Due to the endangered number of Monarchs, the teachers now order Pink Lady Butterfly eggs. The students study the life cycle of the butterfly while watching firsthand as eggs turn to larva that then morph into chrysalises, and ultimately into butterflies. At the end of the unit the students get to set the beautiful butterflies free! In the Spring, student study various life cycles such as the ladybug, the bullfrog and the apple seed reviewing and building on what they learned in the fall about the life cycle of the butterfly. Students create our own caterpillars out of egg cartons for Earth Day and extend their math understanding by creating symmetrical butterflies.The wonderful Monarch Butterfly Habitats donated by Klamath Falls Subaru will be a fabulous extension to the 1st Grade Butterfly Unit. Teachers and students will get to benefit from this donation. Thank you! Joseph Conger Elementary 1st Grade
Committed to the Earth
Did you know the Monarch Butterfly population in the United States has declined by more than 90 percent in recent years? For the month of April, Klamath Falls Subaru is partnering with the National Wildlife Foundation for the Butterfly Heroes Program. Butterfly Heroes seeks to bring awareness to the declining population and connect our community of gardeners and kids, families, and schools alike to help the monarchs and other pollinators. Creating Monarch and pollinator habitat is a wonderful opportunity for observing one of nature's most miraculous occurrences. The unique transformation the Monarch butterfly undergoes during its lifecycle from egg, caterpillar (larva), chrysalis to the delicate yet resilient butterfly is wonderfully intriguing for students and teachers alike. Klamath Falls Subaru will have a butterfly habitat planter on site and be giving away seed kits. Stop in and check it out. We also encourage you to be a butterfly hero and grow your own butterfly habitat at home. It's a great activity for the kids or grandkids! Come join us as we do our part to help save the Monarch butterfly!
Photo Gallery