Share the Love with Friends of the Children

Klamath Falls Subaru presents donation to Friends of the Children of the Klamath Basin in honor of the
Subaru Share the Love Event
Friends of the Children was selected by Klamath Falls Subaru as their Hometown charity choice for the 2017 Subaru Share the Love event. As part of its ongoing support of local communities, Subaru of America, Inc. ("SOA") and Klamath Falls Subaru presented a check for $8730 to Friends of the Children of the Klamath Basin.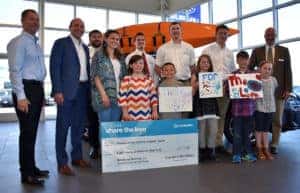 From November 16, 2017 to January 2, 2018 customers who purchased or leased a new Subaru, had the opportunity to select from a list of charities to receive a donation of $250 from SOA. For the second year is a row, there was no cap on the total donation from Subaru of America to its Share the Love charitable partners. At the culmination of this year, SOA and its retailers hope to exceed a grand total of $115 million donated since the creation of Share the Love to celebrate the tenth anniversary of the event. 
Impact on the Community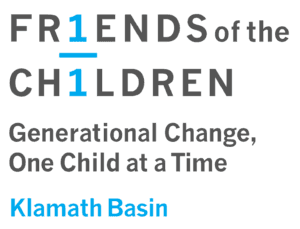 According to Amanda Squibb, Executive Director of Friends of the Children of the Klamath Basin, "The ongoing partnership with Klamath Falls Subaru has been extremely impactful to our organization. Their continued support enables us to provide professional mentors to youth facing the greatest barriers in our community. Klamath Falls Subaru is a true community partner, always willing to pitch in and collaborate in ways which benefit not only our organization but the entire community."  
For 2017, SOA selected the four national charities: ASPCA®, Make-A-Wish®, On Wheels America® and National Park Foundation, while Subaru retailers could also elect to add a hometown charity to help support their community. Klamath Falls Subaru selected Friends of the Children as their Hometown Charity and listed it as an organization that customers could select to receive the 2017 Subaru Share the Love donation.
Squibb states, "The sincerity of the Klamath Falls Subaru staff family is inspiring. Their investment in our organization is not only monetary, but they give of their time and resources. When we stop in, no matter who is on the floor, they are kind, inquisitive and truly interested in hearing more about Friends of the Children. They share a passion and belief in our mission."
"Thank you Kl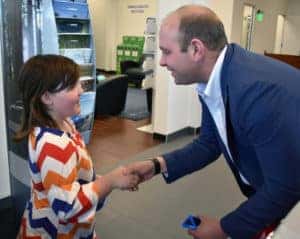 amath Falls Subaru for selecting Friends of the Children- Klamath Basin to be the hometown charity of choice, we are humbled and honored to have your support and the support of our community. On behalf of myself, staff team and our board, we are so deeply thankful. This support is so valuable to our continued work with youth in the Basin."
The check for $8730 was presented to Friends of the Children by Blake Underriner, Managing Partner, along with all of the associates at Klamath Falls Subaru on April 25, 2018.
Klamath Falls Subaru to Share the Love for Years to Come!
"The entire team at Klamath Falls Subaru was thrilled to participate in the annual Share the Love Event to benefit Friends of the Children" states Subaru Sales Manager Matt Meyer. "The Friends organization has a tremendous impact on the children in our community to help break the cycle of generational poverty and provide hope for a brighter future! We are looking forward to an even bigger Share the Love Event this year and hope to continue our support of our Hometown Charity Friends of the Children for many years to come!"